The Tch'an painting
The elegance of simplicity
The calligraphers of Ancient China did not confine themselves to depicting nature: they strove to capture the inner spirit within the outward form of their subject.
Likewise, the Japanese calligraphers of sumi-e some of whom practiced their art as Zen monks in certain renowned Buddhist temples followed their examples. The founding principles of Chinese calligraphy were best embodied in a proposition by Xie He which stated the six rules of Chinese painting, around 500 AD. Prior to Xie He, it is likely that these rules were already being passed on orally from master to apprentice-disciple.
These principles focus on a direct style of painting based on the essences of forms; they gradually became the benchmark for black and white calligraphy. The eighteenth century Chinese master calligrapher Shitao still referred to these principles.
The rules themselves are paradoxical and require considerable insight to master them. To depict the actual shape of a tree branch, its elasticity and nonchalance, while capturing its resistance to the elements is no easy matter. Your touch with the brush, your gesture will vary depending on whether you are depicting a young sapling bamboo shoot or a century old gnarled tree trunk firmly rooted over a cliff edge. More or less energy will be needed when suggesting foliage tossed in the wind or a valiant tree trunk defying the storm.
The six principles of Chinese Ink painting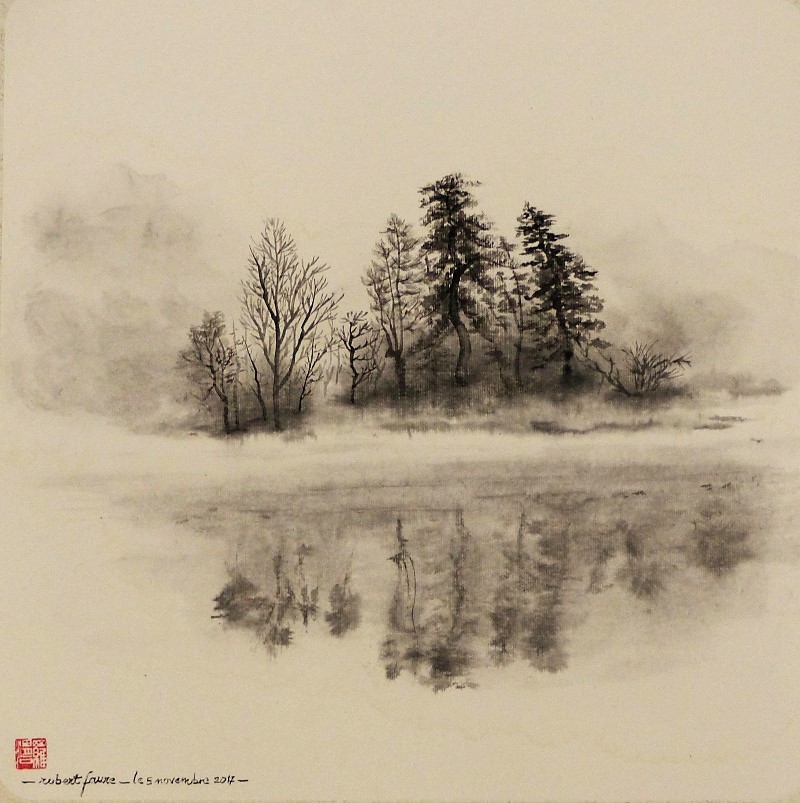 Calme solitude - Painted by Robert Faure
1- DEXTERITY OF TOUCH
respecting the laws governing the contours and the touch of the brush.

2- TRUE LIKENESS
Depictions should faithfully reproduce real objects.

3- A FEELING FOR SUBTLETY
Select shadings in relation to the nature of actual objects.

4- THE COMPOSITION OF SPACE
Objects should be arranged according to the laws of balance and sense of relative proportions.

5- THE ROOT OF THE PAST
Carrying on the tradition, copying the masterpieces of the Great Masters.

6- THE EVANESCENT STIRRING OF LIFE
Expressing the pulse of the spirit and the surge of life.

Xi-He's Treatise(479-482)