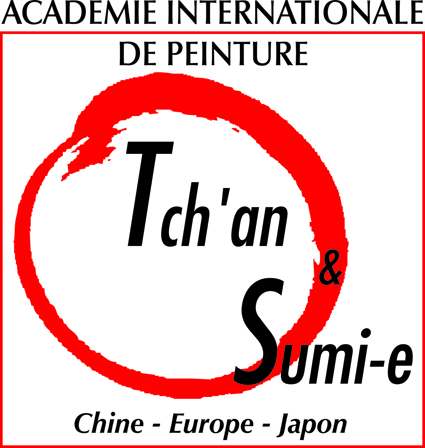 INTERNATIONAL TCH'AN & SUMIE INK PAINTING ACADEMY
China - Europe - Japan
The International Academy of tch'an and sumie ink painting China-Europe-Japan has been
created in january 2014 with the opening of a first class of future teachers and students. In
september 2016, the second promotion opened.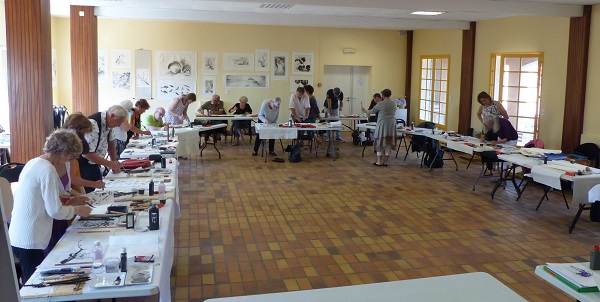 1st and 2nd promotion together
The aim of the Academy is to form qualified painters for excellence. This in-depth training offers two diploma paths : one valuing personal knowledge, the other one oriented towards the ability to teach.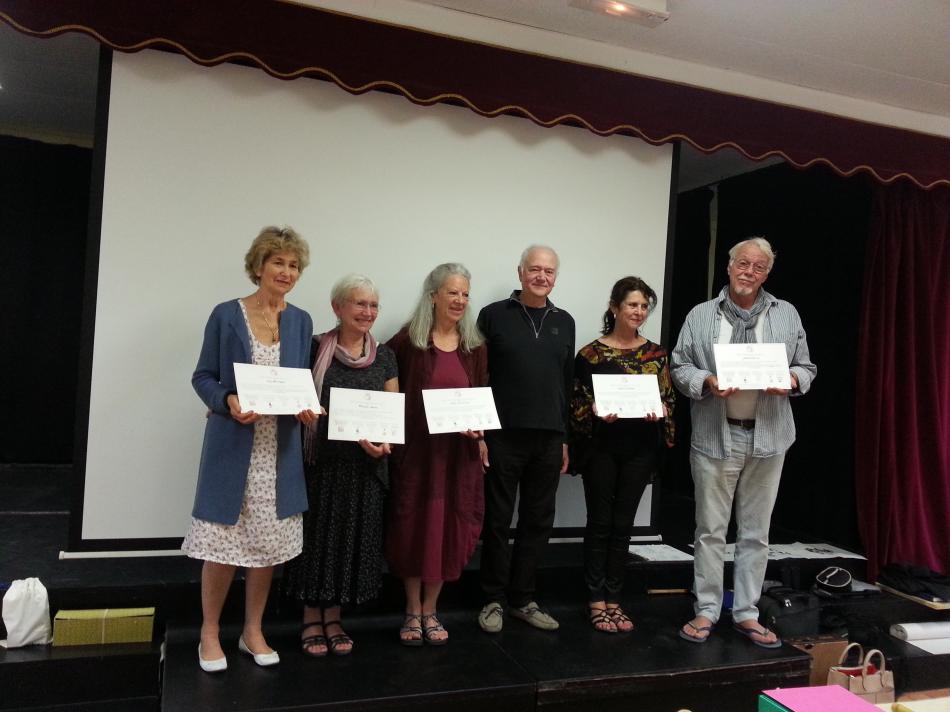 Graduation ceremony - 1st promotion
Cultural and painting trips were organized in Japan in 2014, in China in 2016 and most recently in Japan in 2019.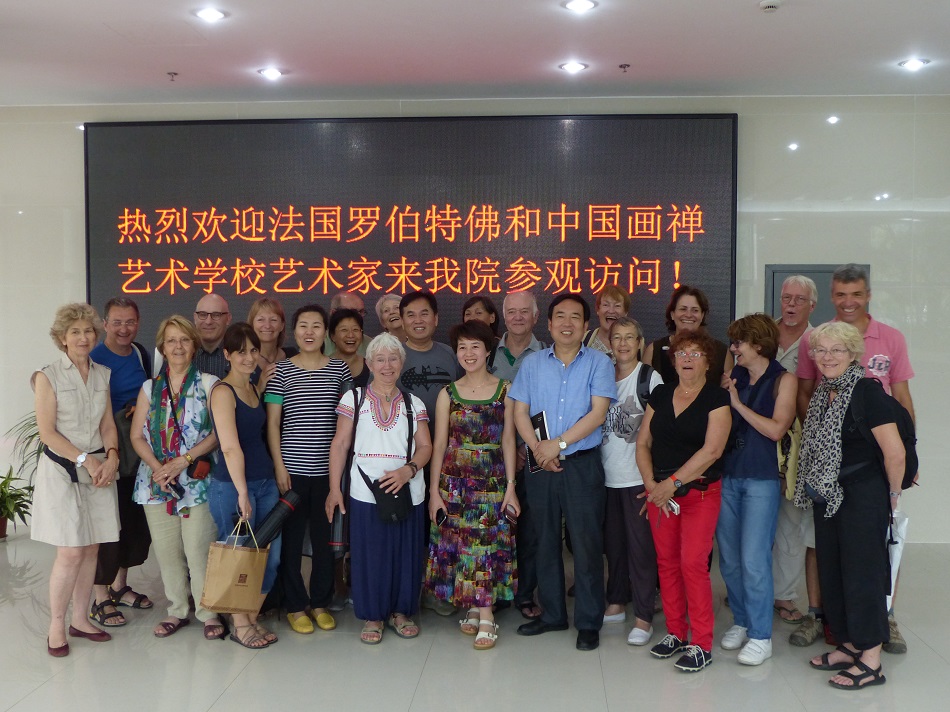 Cultural trip in China 2016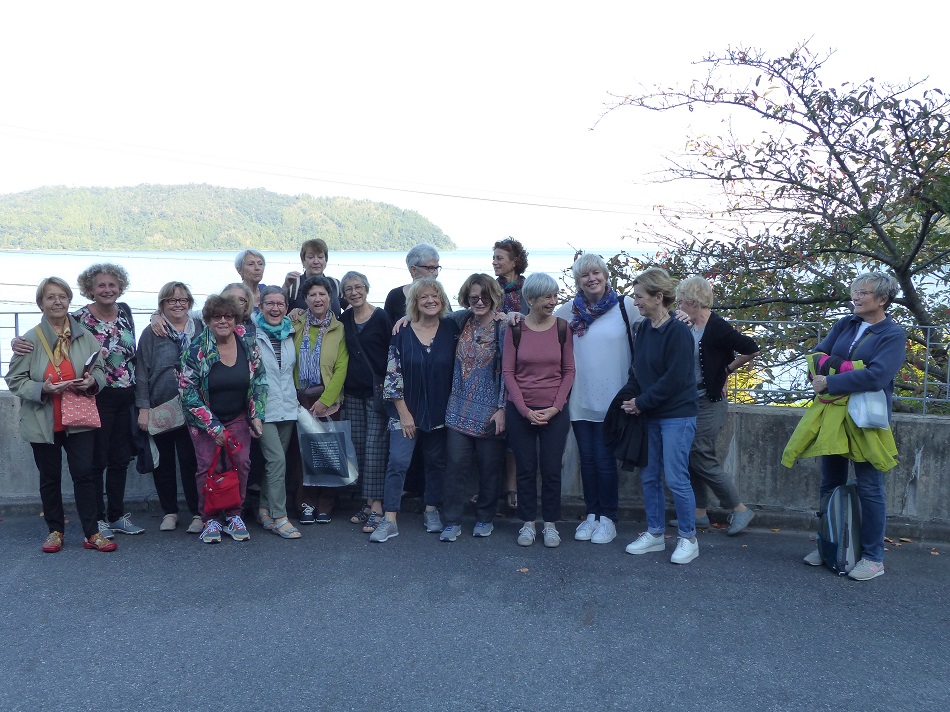 Cultural trip in Japan 2019
The origin of the Academy
Her creation is due to the initiative of Robert Faure and Christiane his wife and thanks to the collaboration of teachers from different schools in China and Japan.
"If I have been able to practice chinese and sumi-e painting for more than thirty years, it is thanks to a successioon of exceptional meetings. At first, I thought they were chances, opportunities due to chance and then they obviously appeared to me as gifts from Heaven.
This is probably why I could not keep them for myself and if I traveled to China and southern Japan to continue learning, I traveled to France and Europe to give what I had received.
Over the years, the requirements of my students have increased with mine. The tch'an and sumi-e art that we practice today, if it remains within the good traditional requirements, also opens up to the current western sensibility.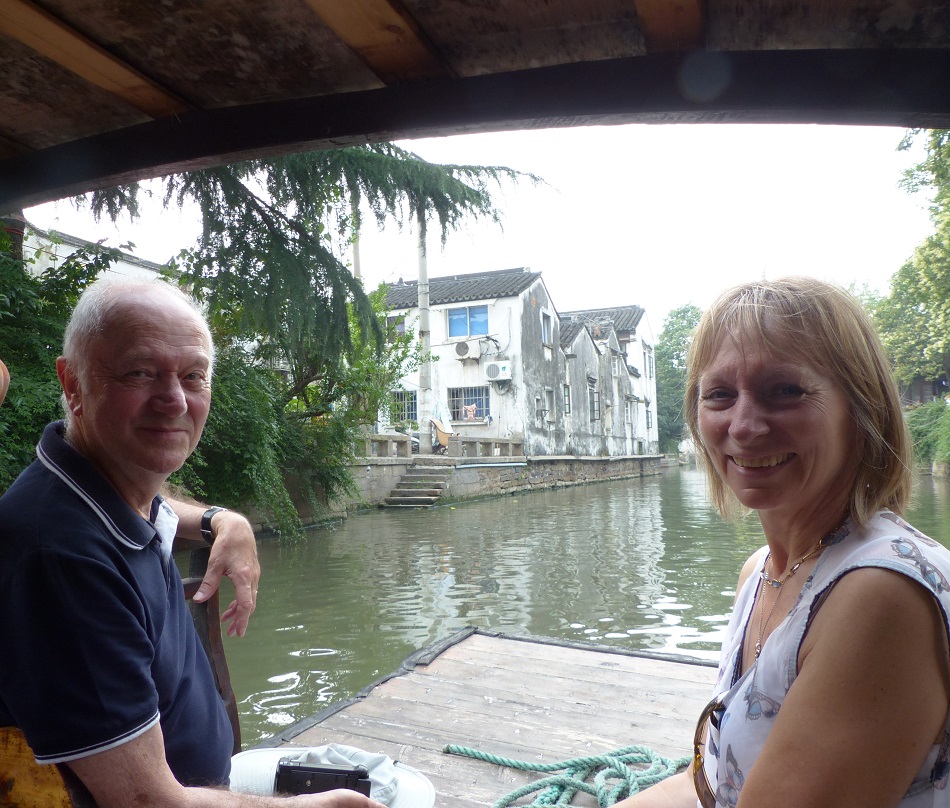 Robert and Christiane Faure in China 2016
So I wanted with the help of Christiane my wife, also a painter, to prepare a demanding pedagogy by creating the « International Academy of tch'an and sumi-e ink painting » China-Europe-Japan, and located in France as a relay.
This Academy is aimed both at those who want to improve their knowledge and technique in this Art, as well as those who, right now or along the way, would opt to teach it in turn.
In addition, my friends and teachers from China and Japan agree to participate as referent painters. They maintain the quality of teaching and bring their know-how and criticism of the work.
If this artictic adventure tempts you, you are welcome to join us. »
Robert Faure
Referent painters
The Academy relies on the skill and excellence of leading painters from China and Japan.
Robert and Christiane have been working with them since 2005 to follow and collect their education every year in their respective countries and in France.
During these trips, bonds fo friendship and trust have been forged between us In addition, we were able to observe their talent, their simplicity and their educational quality.
From China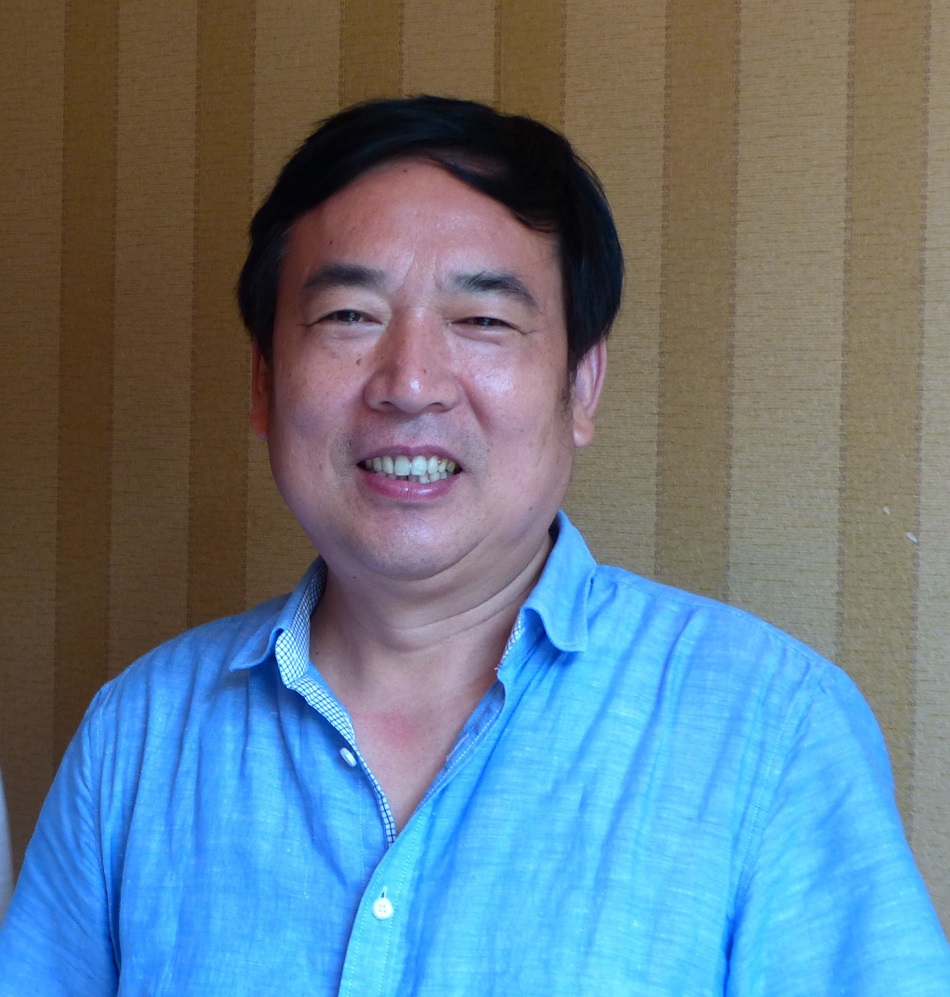 ◆ LI Xiang Hong Vice president of the Research Institute of Painting and Calligraphy Arts in Beijning. He is also vice president of Chinese artists and a member of the Society of Asian Artists in Hong Kong. He is one of the painters selected in China to represent art of ink landscapes.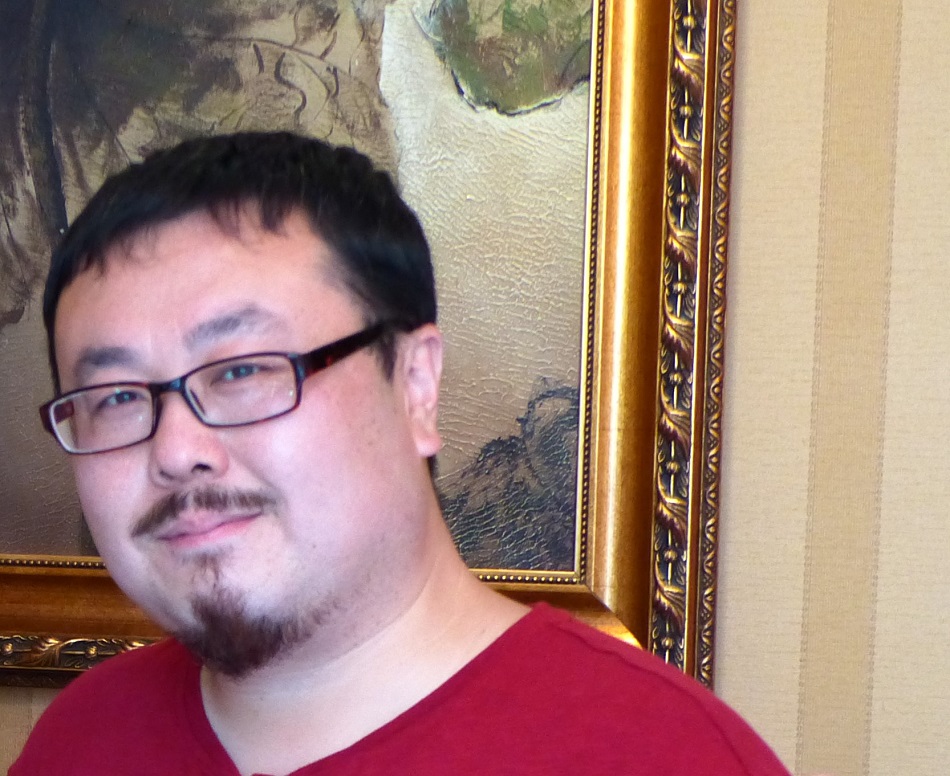 ◆ WANG Yi, Professor at the prestigious Academy of Fine Arts in Hangzhou. He is also responsible for the continuing education department of professors of the Academies and Universities fo China for the « flowers and birds » section. He was present at the First International days of ink Painting-2006 in France that we organized.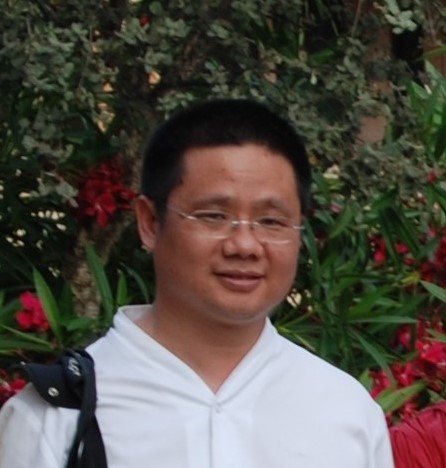 ◆ QIU Ting, Professor at the "China Central Academy of fine arts of Beijing".
A talented artist, he exhibits frequently in China and has been invited to exhibit at the Museum of Asian Art in Boston.
He was present at the 2nd international days of ink painting in 2011 in France in the Var.
For Japan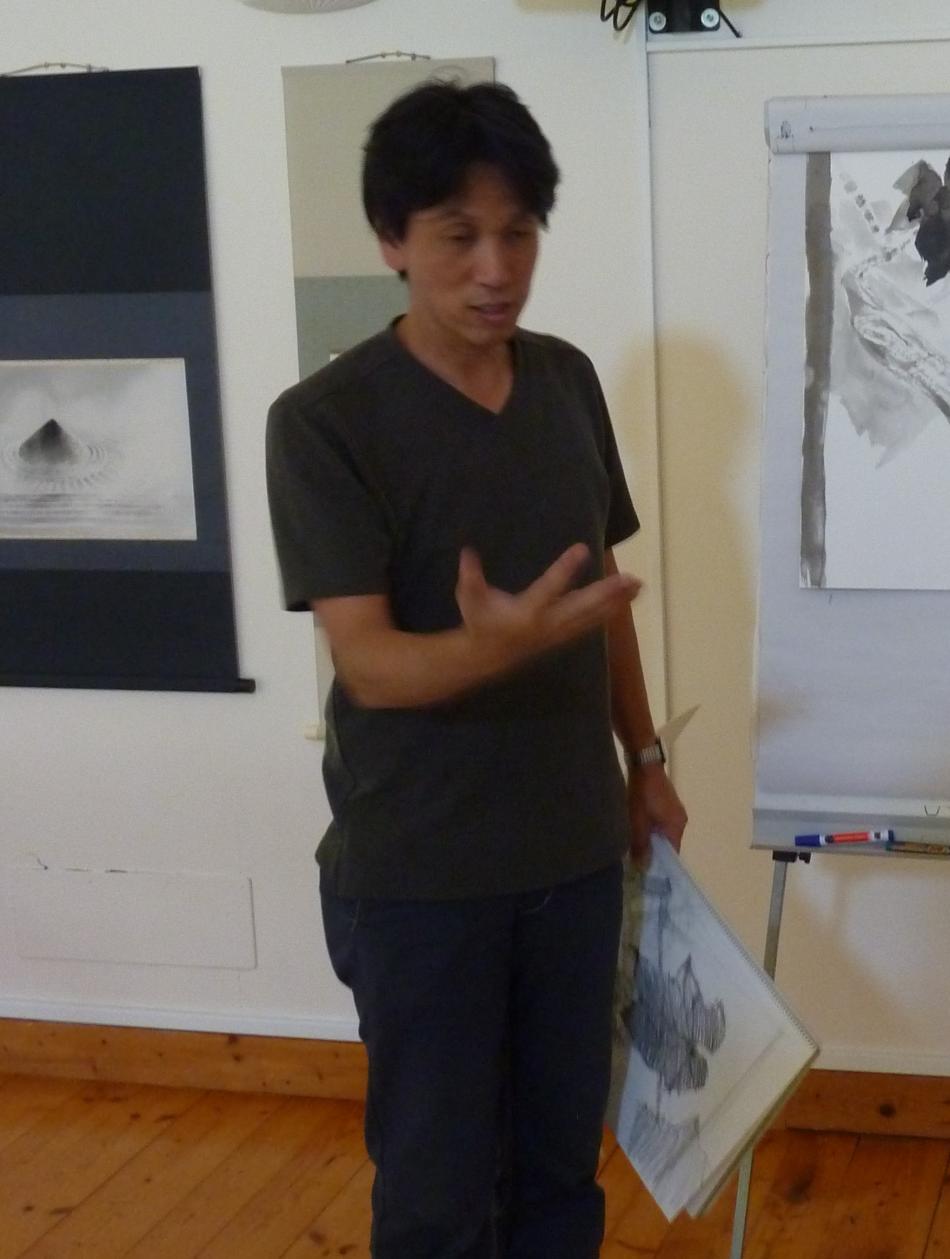 ◆ Sensei TAKAYUKI Shinohara, Sumie teacher at his own school in Kyoto.
He studied in China and Europe and set out to renew the art of Sumi-e in Japan.

Purpose of in-depth training
Training in the 5 fundamental axes of Chech and Sumi-e painting:
- Technical
- Philosophical and spiritual
- History
- Cultural of China, Japan and other Asian countries
- Pedagogic
The principles of the Academy
To enrich the knowledge approached during the internships concerning the various fields of traditional and modern painting with Chinese ink and in the 5 axes proposed above.
To Develop a dynamic of new learning and openness to personal creativity.
To enter the line of Traditions of Chinese and Japanese painting, in a traditional transmission from teacher to taught.
At the end of the training, a "graduate diploma from the International Academy of Chech and Sumi-e Painting" will be awarded, co-signed by the leading painters from China and Japan.
A teaching diploma will be given, co-signed by the referent painters, to students who have followed higher and specific studies. This diploma will allow you to be referenced, including on our website, as a teacher graduated by the Academy.
The state of mind of the Academy
The whole of the teaching given in this Academy is inspired by a state of mind specific to the traditions of Chinese Chinese and Japanese Sumi-e painting from the first centuries to the present day.
Keep the beginner's mind
It is the positive spirit of the painter who, whatever his level, is delighted with all that he still has to discover. This spirit of modesty is found in the greatest painters.
Look for simplicity
In the execution of the paintings seek the most perfect simplicity, as well as the "thrill" of life. Look for the right gesture, determined and accomplished with ease and sobriety in the brushstrokes.
Look at error as a teaching
Learning is not always a demonstration of our successes.
Accept mistakes and take a constructive critical look at them.
Maintain a favorable atmosphere
The cordial understanding between participants and teachers promotes learning in the best conditions. Listening and a spirit of service promote the quality of relationships
Registration conditions
To find out more about the diploma courses and the selection criteria to join the Academy for the next session which will start in 2020, please contact us by mail, specifying the following
- your full contact details
- the number of years spent practicing Chinese ink painting with the Robert Faure Institute
- the elements studied
For people from other schools or self-taught, we invite them to contact us directly.
Our coordinates
ACADEMIE INTERNATIONALE DE PEINTURE Tch'an et Sumi‐e
84 impasse des Bouillidous ‐ 83210 SOLLIES-TOUCAS ‐ France ‐
tel: 0033 (0)4 94 13 02 34 et 0033 (0)6 12 77 99 84